At school > Subject guides > Spelling
Spelling at primary school

Developing confidence in spelling
The National Curriculum that children follow in English primary schools places great emphasis on correct spelling and at the end of Year 6 every child sits a spelling test.
Learning to spell well is extremely useful if we want our children to become confident writers. If they are constantly stopping to think about how words are spelled while they write, it can interrupt the flow of their thoughts, taking them away from what we want them to be thinking about: their choice of words and how they construct those words into sentences that communicate exactly what they want to say.
The National Curriculum requires children to learn to spell different words in different year groups. If you would like understand what your child will be learning at school and find out about some ways you can help your child to develop their spelling, follow the links below.
Spelling in the National Curriculum in England
Key Stage 1 (Years 1 and 2)
The National Curriculum for Year 1 states that pupils should be taught to:
Spell words containing each of the 40+ phonemes already taught
Spell common exception words (such as the and was)
Spell the days of the week
Name the letters of the alphabet
Add some prefixes (such as un–) and suffixes (such as –ing and –ed) to words
In Year 2, children's knowledge of spelling is assessed by a teacher assessment of children's writing. There is also an optional grammar, punctuation and spelling test that schools can choose to use to help them make an assessment about children's understanding in these areas. The National Curriculum for Year 2 states that pupils should be taught to:
Use knowledge of phonics to spell words correctly
Learn new ways of spelling phonemes for which one or more spellings are already known, and learn some words with each spelling, including a few common homophones (such as there/they're/their )
Spell common exception words (such as because)
Spell more words with contracted forms (such as it's)
Learn the possessive apostrophe (singular)
Add suffixes to spell longer words (including –ment, and –ly)
Key Stage 2 (Years 3 to 6)
In Years 3 and 4, children in English schools will continue to develop their spelling. The National Curriculum outlines the spelling rules that children will learn in Year 3 and Year 4:
Use further prefixes and suffixes and understand how to add them (such as dis– and –sure)
Spell further homophones (such as except/accept)
Spell words that are often misspelt
Use the possessive apostrophe accurately (plurals)
Use the first two or three letters of a word to check its spelling in a dictionary
The National Curriculum for Years 5 and 6 expects children to be able to:
Use further prefixes and suffixes and understand the guidance for adding them (such as –able and –ible)
Spell some words with 'silent' letters (such as knight)
Continue to distinguish between homophones and other words which are often confused
Use knowledge of morphology and etymology in spelling
Use dictionaries to check the spelling and meaning of words
Use a thesaurus
By the end of Year 6, children are expected to understand and be able to meet the challenging spelling demands outlined in the National Curriculum. Children's knowledge is assessed through a grammar, punctuation and spelling test that children sit in May as part of a week of national tests.
Spelling in primary schools in Scotland, Wales and Northern Ireland
For information about spelling and the Curriculum for Excellence in Scotland see the experiences and outcomes for literacy and English on the Education Scotland website.
Details about spelling in the National Curriculum for Wales can be found on the Learning Wales website.
For information about spelling in the Northern Ireland curriculum, see the Language and Literacy area of learning. Visit CCEA for more details.
How can I support my child's spelling?
1. Practising their phonics (Years 1 and 2)
Phonics is the main way that children are taught to spell at the start of primary school. Encouraging children to break the word they want to spell into its individual sounds and then try to match those sounds to the letters of the alphabet is really important. Reminding children to segment 'frog' into its four sounds – 'f' 'r' 'o' 'g' – sounds like such a basic way of supporting spelling, but practising it is so important if it is to become second nature. You can find out more about how phonics works on our phonics made easy page.
2. Helping with spelling homework
If a list of spelling words come home for your child to learn (perhaps for a spelling test) then helping your child to learn them can be really helpful. If they are struggling to remember them, you might:
Draw their attention to any patterns or groups of letters in the words, making links to the phonics they've been taught: 'which letters are making the 'ay' sound here? Yes, it's the 'ai', just like in 'gain' and 'Spain'. That's different to the 'ay' sound in 'play', isn't it?'
Use over-pronunciation. So for Wednesday encourage children to say Wed-nes-day as they write. There are lots of words which feature sounds that aren't always pronounced clearly (such as words ending in -ed), so asking children to over-pronounce these when spelling can also be useful (for example, teaching children to say hopped or skipped instead of jumpt can be a huge help).
Ask children to write down the words that they need to remember how to spell. The act of writing the words by hand helps to anchor the spelling in children's memories and encourages them to think about the letters that represent the sounds in the word. You just don't get the same benefits if children type the words into a PC or tablet.
You can focus children's attention on the tricky bits in a word by asking them to highlight them. For example, show them that said has 'ai' in the middle and ask them to write the word, and then highlight or underline this part to help them remember. There are few resources more motivating than a highlighter pen for primary-aged children.
For more creative ways to support your child with spelling homework, read the Oxford Owl Blog.
3. Playing spelling games
Playing games such as hangman can help children to learn about spelling in an enjoyable way. Online games such as Word Worm can be motivating too. Alternatively, try making some silly sentences: challenge your child to write a silly sentence, including as many of the words on their spelling list as possible. For example, your child may have to learn 'room took hoop foot book'. They could make up a silly sentence such as 'The boy took his book across the room but got his foot caught in a hoop'. Again they could draw illustrations to go with the sentences.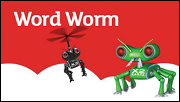 Play Word Worm, KS1
Collect the right letters to make words, but make sure you don't bump into an X-bot!
Play the game >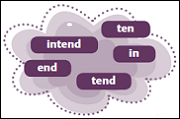 Big Spell activity sheets, Key Stage 2
Have fun with words with these activity sheets from The Big Spell and Oxford Children's Dictionaries.
Download the spelling activities > [PDF]
4. Finding the right resources
Learning to spell is a gradual process and it can take time. All children are different: some pick up spelling quickly, while others take longer. If you think your child might benefit from some extra support with spelling in, here are some find useful resources: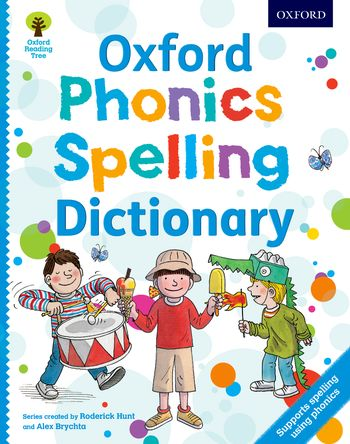 Oxford Phonics Spelling Dictionary
Age 5 – 7
The Oxford Phonics Spelling Dictionary is an easy home and school reference tool and supports the teaching of reading and spelling through synthetic phonics. With colourful illustrations by Alex Brychta and the familiar Oxford Reading Tree characters, this is a fun way to prepare for the phonics screening check.
Buy on Amazon >
---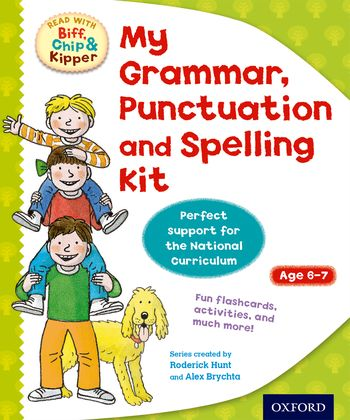 My Grammar, Punctuation and Spelling Kit
Age 6 – 7
Containing three workbooks and a set of flashcards, this kit provide lots of spelling and grammar practice, and a reward chart with stickers helps to build your child's confidence. For children aged 6 and above.
Buy on Amazon >
---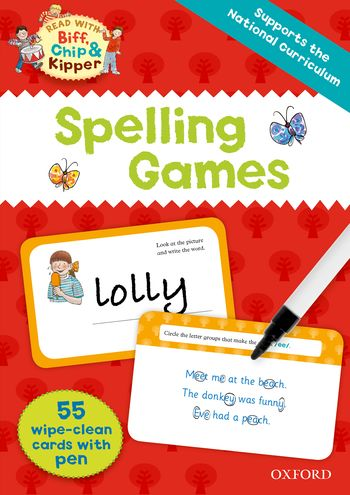 Biff, Chip and Kipper: Spelling Games Flashcards
Age 5 – 7
These wipe-clean flashcards with pen are a fun way for children to develop their spelling skills, and they support the way children are taught to write at school.
---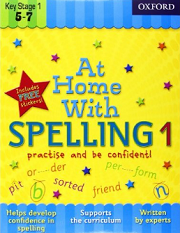 At Home with Spelling 1
Age 5 – 7
A fun activity workbook for children, aged 5 - 7 years, to do at home. This first book focuses on recognizing vowels and consonants, recognizing syllables, prefixes and suffixes, and developing strategies for remembering how to spell hard words. Comes with stickers to reward your child!
---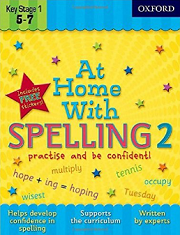 At Home with Spelling 2
Age 5 – 7
This second book helps further build you child's confidence, focusing on recognizing common word structures and spelling patterns, knowing when to use double consonants, long and short vowels, and decoding unfamiliar words.
---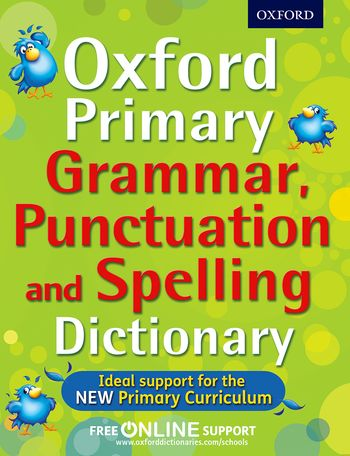 Oxford Primary Grammar, Punctuation and Spelling Dictionary
Age 8+
The essential primary guide to grammar, punctuation, and spelling. In full colour, it has easy-to-use rules and help, plus an alphabetical list of the tricky, and everyday, words including those most commonly misspelt.
Buy on Amazon >
---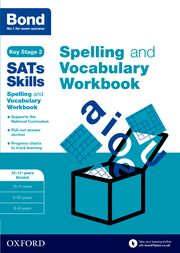 Bond SATs Skills Spelling and Vocabulary Workbooks
Developed with Oxford Dictionaries, the Bond SATS Skills Spelling and Vocabulary Workbooks are designed to help establish competent spelling and the confident understanding of the words expected by National Curriculum tests.
Workbook for 8 – 9 years
Workbook for 9 – 10 years
Workbook for 10 – 11 years
10 – 11+ years Stretch Workbook