Join us
Biff, Chip and Kipper: Activities
Free online games and printable activity sheets from Read with Oxford
We've gathered together some of our favourite activities and games starring Biff, Chip, Kipper and Floppy the dog, taken from our Read with Oxford range of home reading books. Develop key skills and have fun as you explore their world with games, crosswords, drawing activities and much more.
Take a look at the whole Read with Oxford range, created by experts to support children as they learn to read, and find out which Read with Oxford Stage is best for your child.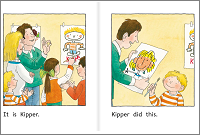 Floppy Did This!
(from Dad's Birthday and Other Stories)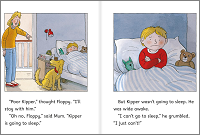 Hairy-Scary Monster
(from Dolphin Rescue and Other Stories)
Watch our professional storyteller read two Biff, Chip and Kipper stories, 'The Bigfoot Mystery' (Stage 4) and 'The Strange Old House' (Stage 5).
Online games and activities
Downloadable activity sheets
More from Read with Oxford