Join us
Julia Donaldson's Songbirds: Activities
Free online activities and printable activity sheets from Read with Oxford
The Read with Oxford range has been carefully created by educational experts to support your child as they learn to read. Here, we've gathered together some of our favourite activities and resources from Julia Donaldson's Songbirds collection. Have fun while developing key skills with these interactive word games, colouring in activities, and much more.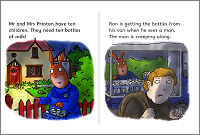 Ron Rabbit's Big Day
(from The Trunk and the Skunk and Other Stories)
Watch Julia Donaldson read stories from her Read with Oxford Songbirds story collections.
Downloadable activity sheets
More from Read with Oxford