Join us
Stage 5: Advice & activities
Becoming independent – I can read and enjoy a whole story by myself
We've put together some advice and activities specifically designed to help children using the Read with Oxford Stage 5 books. Have a look at our tips, downloadable activities and storytelling videos to get you off to a start. If you're not sure that your child is ready for Stage 5, try our simple test.

Approximate age: 6–8
School: Years 2 and 3 / P3 and P4 | Oxford Levels 8 and 9 | Book Bands Purple, Gold
Guide to Read with Oxford Stages >
Children at Stage 5 are typically 6–7 years old and in Year 2 (P3 in Scotland). At this age, your child will be expected to read and spell many words automatically using phonics, to be able to talk about whole texts and notice interesting features, and to have greater independence in reading. For more information, have a look at our guide to reading in Year 2.
Tips to support your child at home
How can you effectively support your child at home? Here are a few tips and ideas to help your child get the most out of their reading:
Don't stop reading with your child, even if they are reading independently too. Find a time to read with your child when they are not too tired and are happy to concentrate for twenty minutes.
Frequently talk about the books you and your child read together.
When you come across unusual words, ask your child to think of other words that mean the same thing, or other words with similar spelling patterns. This helps them to develop their vocabulary.
For more advice, take a look at our page on developing confidence as a reader, or buy our book, Helping Your Child to Read , specifically created to support learning with Read with Oxford.
Try out our free activities to support your child as they develop their reading skills.
Free Stage 5 eBook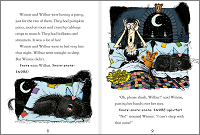 Winnie's Bubble Trouble
(from Tidy up, Winnie!)
Storyteller videos
Watch our professional storyteller read three Stage 5 stories, 'The Strange Old House', 'Winnie Goes Batty', and The Sand Witch.
Online activities
Downloadable activity sheets

Take a look at some more of our free activities.
More from Read with Oxford Stage 5