Join us
Stage 4: Advice & activities
Gaining confidence – I sometimes read by myself, and I can read lots of everyday words
We've put together some advice and activities specifically designed to help children using the Read with Oxford Stage 4 books. Have a look at our tips, downloadable activities and storytelling videos to get you off to a start. If you're not sure that your child is ready for Stage 4, try our simple test.

Approximate age: 5–7
School: Years 1 and 2 / P2 and P3 | Oxford Levels 6 and 7 | Book Bands Orange, Turquoise
Guide to Read with Oxford Stages >
In Year 1 (P2 in Scotland), your child will start to learn complex letter sounds and to build on their comprehension skills, and they will probably start reading books from a reading scheme. For more information, have a look at our guide to reading in Year 1.
Tips to support your child at home
How can you effectively support your child at home? Here are a few tips and ideas to help your child get the most out of their reading:
Don't stop sharing bedtime stories or information books with your child, even if they also like reading independently. Choose books together and enjoy talking about them.
Try reading slightly more difficult books to your child. Hearing you read fluently will motivate them to want to read them themselves.
As well as reading books aloud together, encourage your child to read silently and independently, especially when they are re-reading favourite books.
For more advice, take a look at our page on building on reading skills, or buy our book, Helping Your Child to Read , specifically created to support learning with Read with Oxford.
Try out our free activities to support your child as they develop their reading skills.
Free Stage 4 eBook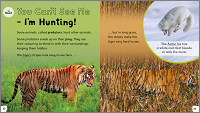 Colour Codes
(from Incredible Animals)
Storyteller video
Watch our professional storyteller read a Stage 4 story, 'The Bigfoot Mystery', or watch Julia Donaldson read 'Paula the Vet', taken from one of her Read with Oxford Songbirds collections.
Online activities
Downloadable activity sheets

Take a look at some more of our free activities.
More from Read with Oxford Stage 4
Ready for Read with Oxford Stage 5?