Join us
Stage 1: Advice & activities
First steps – I am starting to use letter sounds to read simple words
We've put together some advice and activities specifically designed to help children using the Read with Oxford Stage 1 books. Have a look at our tips, downloadable activities and storytelling videos to get you off to a start. If you're not sure that your child is ready for Stage 1, try our simple test.

Approximate age: 3–4
School: Early Years | Oxford Levels 1 and 1+ | Book Bands Lilac, Pink
Guide to Read with Oxford Stages >
There are no formal expectations or requirements around reading for children in pre-school. However, it is never too early to get your child started on their reading journey. For advice on how to engage your 3–4 year old child in reading, have a look at our blog post: Getting ready for reading at nursery.
Tips to support your child at home
How can you effectively support your child at home? Here are a few tips and ideas to help your child get the most out of their reading:
Before reading a book together, always talk about the title, the blurb and the pictures on the cover. Ask your child what they think the book might be about.
As you read, point to the words. Let them join in if they want to.
Read with expression and try different voices for different characters. Get your child to join in with repeated refrains like Run, run, as fast as you can…
For more advice, take a look at our page on getting ready for reading or buy our book, Helping Your Child to Read , specifically created to support learning with Read with Oxford.
Try out our free activities to support your child as they develop their reading skills.
Free Stage 1 eBook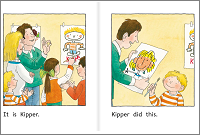 Floppy Did This!
(from Dad's Birthday and Other Stories)
Storyteller videos
Watch Julia Donaldson read two stories from her Read with Oxford Stage 1 story collection, 'Cat Naps' and 'Mum Bug's Bag'.
Online activities
Downloadable activity sheets

Take a look at some more of our free activities.
More from Read with Oxford Stage 1
Ready for Read with Oxford Stage 2?