Join us
Stage 2: Advice & activities
Early reader – I can use letter sounds to read simple words and short sentences
We've put together some advice and activities specifically designed to help children using the Read with Oxford Stage 2 books. Have a look at our tips, downloadable activities and storytelling videos to get you off to a start. If you're not sure that your child is ready for Stage 2, try our simple test.

Approximate age: 4–5
School: Reception / P1 | Oxford Levels 2 and 3 | Book Bands Red, Yellow
Guide to Read with Oxford Stages >
In Reception (P1 in Scotland), your child will start to learn about phonics, to link stories to their own experiences, and to use their developing reading skills to begin writing letters and simple sentences. For more information, have a look at our guide to reading in Reception.
Tips to support your child at home
How can you effectively support your child at home? Here are a few tips and ideas to help your child get the most out of their reading:
Keep bedtime reading special. Read lots of new and different books to your child as well as continuing to re-read old favourites.
Share the story together, inviting your child to join in on some pages. Give lots of praise as your child reads with you, and help them when necessary.
Encourage your child to read with expression when re-reading a story.
For more advice, take a look at our page on starting to read, or buy our book, Helping Your Child to Read , specifically created to support learning with Read with Oxford.
Try out our free activities to support your child as they develop their reading skills.
Free Stage 2 eBook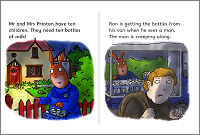 Ron Rabbit's Big Day
(from The Trunk and the Skunk and Other Stories)
Storyteller videos
Watch Julia Donaldson read two stories from her Read with Oxford Stage 2 story collection, 'Singing Dad' and 'The Odd Pet'.
Online activities
Downloadable activity sheets

Take a look at some more of our free activities.
More from Read with Oxford Stage 2
Ready for Read with Oxford Stage 3?