Join us
Winnie and Wilbur: Activities
Free online activities and printable activity sheets from Read with Oxford
The Read with Oxford range has been carefully created by educational experts to support your child as they learn to read. Here, we've gathered together some of our favourite activities and resources starring Winnie the witch and her black cat Wilbur. Develop key skills and have fun as you dive into Winnie's fantastical world – write your own spells, design your own magical pet, and much more.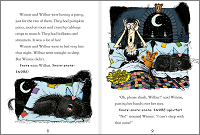 Winnie's Bubble Trouble
(from Tidy up, Winnie!)
Watch our professional storyteller read two Winnie the Witch stories, 'Winnie Goes Batty' (Stage 5) and 'Winnie's Perfect Pet' (Stage 6).
Downloadable activity sheets
More from Read with Oxford