FREE eBook Library
Welcome to our free eBooks collection, developed for children aged 3–11 years old. Help your young child learn to read, and love to read, with our range of over 150 eBooks. If you'd like to learn more about how to support your child's reading, visit our Reading at home and Phonics made easy pages. For information about our range of levelled books for schools, visit our Oxford Reading Tree page or explore our Read with Oxford pages to learn about our range of books designed to support reading practice at home.
All our eBooks are tablet-friendly. Just register or log in above to start reading.
eBook of the Week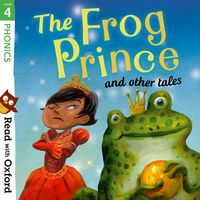 The Frog Prince (from The Frog Prince and Other Tales)
Read with Oxford Stage 4 | Oxford Levels 6, 75 | Book Bands Orange, Turquoise
Our eBook of the week comes from our new Read with Oxford series for home reading. 'The Frog Prince' is a retelling of a traditional tale for 5–7 year olds, carefully written to be in line with your child's reading development at school. Will the princess keep her promise?

Read 'The Frog Prince' >
Find out more about Read with Oxford >
Browse the library
---
More books to support learning at home
---
---