The Accidental Prime Minister
With the General Election dominating the headlines at the moment, we've got some great activities to help you explore this issue with your child, all based on Tom McLaughlin's hilarious book: The Accidental Prime Minister.
Quiz: How much do you really know about the UK government?
Video

"Parents are not allowed to embarrass their children." Children tell us what laws they'd pass!
Watch the video
Reading notes: The Accidental Prime Minister and UK politics – things to talk about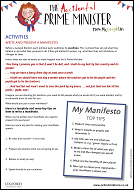 Packed with activities, games and further book suggestions, these reading notes will help you discuss the book in more detail and also help you to explain to your child lots of key political ideas, including:
Who is eligible to vote in the UK General Election.
How can young people get involved in politics.
What a manifesto is and how to write one.
Reading notes