The Accidental Prime Minister
If I ever got in charge, things would be very different. I wouldn't waffle on about how bad the other lot had been, I'd sort stuff out. I mean, how tough can it be? Grown-ups have had their turn at running the country – why not let us kids have a go? AT LEAST THAT WAY WE'D GET TO KEEP OUR BLOOOOOOMIN' PARKS!!!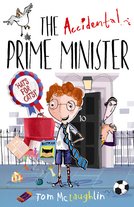 And so begins Joe Perkins' journey to Downing Street in Tom McLaughlin's latest book for 9-12 year olds, The Accidental Prime Minister .
Protesting at the closure of his local park, Joe's campaign goes viral and he ends up in Number 10 with a manifesto that includes banana shaped buses, hats for cats and Fancy Dress Fridays (but on a Thursday).
Perfect for fans of David Walliams, The Accidental Prime Minister is a hilarious tale of what really would happen if a kid was in charge.
Find out more

"Parents are not allowed to embarrass their children." Children tell us what laws they'd pass!
Watch the video
Reading notes: The Accidental Prime Minister and UK politics – things to talk about
We've also produced some reading notes to accompany the publication of The Accidental Prime Minister.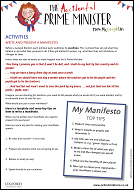 Packed with activities, games and further book suggestions, the reading notes will help you discuss the book in more detail and also help you to explain to your child lots of key political ideas, including:
Who is eligible to vote in the UK General Election.
How can young people get involved in politics.
What a manifesto is and how to write one.
Reading notes