Roald Dahl – fun activities
Frobscottle, delumptious, Oompa-Loompa – you might recognise these words from many a bedtime reading of Roald Dahl, but did you know that they're all examples of gobblefunk? That's the name Roald Dahl gave to the words he invented and used in his phizz-whizzing stories.

Gobblefunk is not only a great way of exploring Roald Dahl's stories with your child (try asking them what Matilda's ringbelling dream might be), but it's also a great way to have fun with language and support literacy at home.

To help you explore Dahl's gobblefunk, the creators of the new Oxford Roald Dahl Dictionary have shared a range of fun word-based activities with us, as well as a quiz to test your knowledge of Dahl words .

Happy gobblefunking, human beans!
Test your Gobblefunk! How well do you know the words of Roald Dahl?
Word game activity sheets
Oxford Roald Dahl Dictionary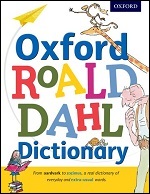 From aardvark to zozimus, a dictionary of real and invented words used by the world's best storyteller.
With real citations from Roald Dahl's children's books and illustrations by Quentin Blake, this dictionary is engaging, accessible, and will inspire and encourage young writers and readers.
Our favourite Roald Dahl books
Boy
In these stories from his childhood, Roald Dahl tells of the perils of pretending to be ill, his experiences at boarding school, and the joy of sweet shops and chocolate.
Hugely entertaining, children who will be fascinated by the familiarities and differences between his school days and their own.
Buy on Amazon

The BFG
Snatched by the giant from the orphanage where she lives, Sophie is taken to a land where she learns that other giants are not so friendly.
A classic 'good defeats bad' story, with the Queen enlisted to help too!
Buy on Amazon

George's Marvellous Medicine
Children love the overstated eccentricities of George's grandma in this fast–moving farce.
Try writing a list of truly horrible ingredients, embellished with carefully chosen adjectives, with your child!
Buy on Amazon

Fantastic Mr Fox
Thoroughly horrible Boggis, Bunce and Bean are determined to put an end to fantastic Mr Fox.
Follow this fabulous fox, his family and friends as they build a new system of tunnels under the farms.
Buy on Amazon

Matilda
This must–read for all children is imaginative, full of humour and unforgettable characters.
A sensitive and intelligent young girl, Matilda's love of books colours her world.
She uses her genius to seek revenge against her miserable parents and tyrannical headmistress.
Buy on Amazon

The Twits
An utterly disgusting duo, Mr and Mrs Twit carry out truly despicable acts upon each other.
The comic book–style unpleasantness of The Twits really appeals to a child's wacky sense of humour.
Buy on Amazon
Related links
Get more great ideas on supporting your child's literacy at home with Oxford Owl: