Join us
Oxford Reading Tree
The home of Biff, Chip and Kipper
As the UK's most successful reading scheme, Oxford Reading Tree has helped millions of children all over the world learn to read… and love to read. Rooted in reading for pleasure and with systematic phonics at its heart, Oxford Reading Tree's well-loved characters, breadth (over 800 books!) and varied writing styles give children everything they need to become confident readers.
Schools across the world use Oxford Reading Tree books, including series such as Floppy's Phonics, Biff, Chip and Kipper, Traditional Tales, Songbirds Phonics, inFact, and Story Sparks. A separate range of books, each containing supporting notes for parents, have been created to support reading at home – take a look at our Read with Oxford range for more information.
What are Oxford Levels and Book Bands?
In the UK, Book Bands are used across different reading schemes to indicate the reading level of each book. Because Oxford Reading Tree was created before Book Bands were established in the UK, you will see our Oxford Levels alongside the newer Book Band colours on the back of each Oxford Reading Tree book.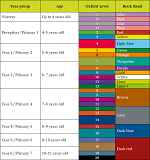 Download the complete chart.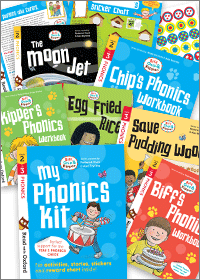 Packed full of fun activities, engaging stories and useful tips, this kit provides you with everything you need to support your child in the lead up to the Year 1 phonics screening check. Practise phonics skills with three activity workbooks, three phonics storybooks, fun stickers and activities.
Find out more >
What are reading schemes?
Visit our blog for an introduction to reading schemes, Book Bands and reading levels.