Join us
Oxford Reading Tree
The home of Biff, Chip and Kipper
"I love Biff, Chip and Kipper so much I named my pet stick insects after them." – Rhys, age 6
As the UK's most successful reading scheme, Oxford Reading Tree is currently used in over 80% of primary schools and has helped millions of children from all over the world learn to read ... and love to read. Rooted in reading for pleasure and with systematic phonics at its heart, Oxford Reading Tree's well-loved characters, breadth (over 800 books!) and varied writing styles give children everything they need to become confident readers.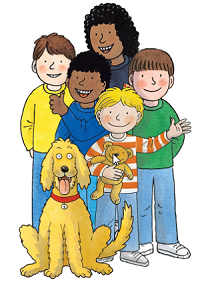 At school, and at home
Schools across the world use Oxford Reading Tree books, including series such as Floppy's Phonics, Biff, Chip and Kipper, Traditional Tales, Songbirds Phonics, inFact, and Story Sparks. A separate range of books, each containing supporting notes for parents, have been created to support learning at home – take a look at our home learning books page for more information.
What are book bands and Oxford Levels?
In the UK, book bands are used across different reading schemes to indicate the reading level of each book. Because the Oxford Reading Tree was first created before book bands were established in the UK, you will see our Oxford Levels alongside the newer book band colours on the back of each Oxford Reading Tree book.
What are reading schemes and why are they important?
Visit our blog for an introduction to reading schemes, book bands and reading levels.
Tell us what you think
We'd love to read your feedback about our Guide to Starting School, so if you've a spare minute please take our very short survey.
Thank you.