Join us
Starting primary school: checklist
Getting ready for primary school
We've put together a handy checklist of things to do over the summer to help your child get ready for primary school. Download it and stick it to your fridge, then tick off each item as you get closer to their first day, from labelling their school uniform to trips to the park!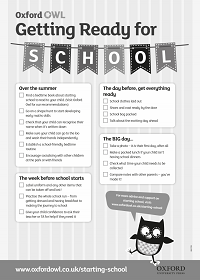 Next: Books to share
Tell us what you think
We'd love to read your feedback about our Guide to Starting School, so if you've a spare minute please take our very short survey.
Thank you.