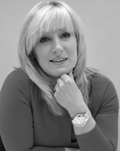 Sarah Threlkeld-Brown
Andrell Education Ltd. Consultant
Sarah works for Andrell Education Ltd. – the company behind Big Writing, Big Maths and Big Reading. Sarah is the lead consultant for reading and co-created Big Reading. She has worked in education for many years, latterly as a Local Authority consultant, prior to joining the Andrell team in 2011.
Sarah is an incredibly motivating and inspirational consultant. She has successfully worked with LAs, Heads, SLTs and teachers in schools across the country, focusing on raising standards in English. Sarah is passionate about the teaching of reading, reading for pleasure and about all things to do with children's literature, especially in 'hooking' reluctant readers in through fantastic texts and by using inspiring learning strategies.
Sarah has been nominated twice for 'The Teaching Awards, Primary Teacher of the Year'. She also openly admits she is addicted to children's books!
Why did you get involved in Oxford BookMatch? I have chosen texts that have all been used and highly recommended in my 'Big Reading' schools and I am always on the look-out for new, exciting and engaging texts for children. I am an avid believer that all teachers should have a wealth of knowledge in children's literature and wanted to join this expert panel to impart some of my knowledge of, and passion for, the teaching of reading with as many teachers as possible.