Reading > Find a book > Read Write Inc. Phonics
Read Write Inc. Phonics

Read Write Inc., developed by Ruth Miskin, is taught in over 5000 schools in the United Kingdom. Children become fluent readers, confident speakers and willing writers.
Books | Videos | Free eBooks | More help with phonics
Books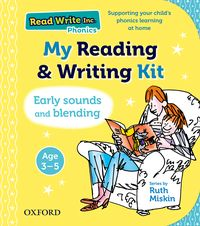 RWI Phonics: My Reading and Writing Kit: Early sounds and blending
This comprehensive kit is packed full of resources to help your child learn to read and write. It is a perfect way to prepare your child for school and support them as they begin to learn phonics in Nursery and Reception. The pack includes:
Bedroom frieze featuring the first 30 sounds
Illustrated flashcards to help children learn and practise reading the first 30 sounds
Handwriting book for children to practise writing the letters
Wipe-clean sheet and pen to encourage your child to practise tracing the sounds again and again
Parent handbook with practical advice, support, and information about teaching phonics
Buy from Amazon >

---
These flashcards offer a fun way to introduce the letters and sounds that make up words, using the 'Speed Sounds'. Perfect for practising all 31 Speeds Sounds, accompanying illustrations will help to place the sounds in context, making them easier for your child to remember them. With parent notes offering guidance, these cards are the ideal way to support your child's first steps in learning to read.
---
RWI Phonics: More Phonics Flashcards
Following on from the bestselling Read Write Inc. Phonics Flashcards, this second pack is a fun way to introduce Speed Sounds Set 2 and 3. With humorous illustrations and rhymes, these cards are perfect for introducing the next steps in phonics. Accompanied by clear guidance for parents throughout, this is a great way to support school learning.
---
Free eBooks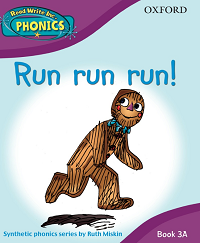 Free Read Write Inc. Phonics eBooks
Visit our eBook library for free tablet-friendly Read Write Inc. Phonics eBooks.
Free Read Write Inc. Phonics eBooks >
Please note you will need to login or register to use our eBook library.
---
Videos
More help with phonics
Find more tips on teaching your child to read from Ruth Miskin, along with an audio guide to the 44 phonics sounds, on our Phonics made easy page.
To find out more about Ruth Miskin, visit the Ruth Miskin Training website.