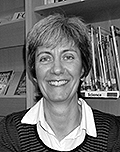 Barbara Derbyshire
Teacher and Literacy Subject Leader, Stenson Fields Primary Community School, Derby
Barbara has worked across Key Stage 1 and 2 since joining Stenson Fields Primary Community School in 1989. For much of that time, Barbara has been the Librarian, and has been involved in developing boys' reading through the Reading Challenge, introducing a Junior Librarian and having the exciting job of buying great books for children to enjoy!
Barbara has worked as a Literacy Consultant and a Regional Advisor for the National Strategies on the Every Child a Writer project. As a member of the UKLA, Barbara has been involved in judging the book awards for 3–6 and 7–11 year olds, both as a group member and as a group leader.
Why did you get involved in Oxford BookMatch? There are so many books which children should be introduced to and this was an opportunity to share with others some of the great books I have read and enjoyed with my classes over the years!