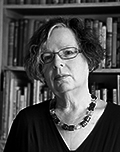 Adèle Geras' Historical Fiction (Years 3–6/P 4–7)
My aim in curating such a list is to show children how fascinating and exciting history can be. It's often easier to absorb facts when you have a story to go with real events. Each of these books is a way of showing children what life was like a very long time ago. I've included two written by me. One is part of a series with two other writers and the second deals with the Kindertransports, a subject not often written about for younger readers. 7-11 is a hard age group to choose for because up at the top end there will be some children who are very sophisticated indeed and some of these novels are for them. I really hope everyone who takes up my recommendations loves them as much as I do.
About Adèle Geras
Adèle Geras has been writing books for children since 1976 and has published more than 90 books for readers of all ages from babies to teenagers. In 2003, her first adult novel, Facing the Light, was published by Orion. She has also published poetry and reviewed books for the Guardian and the Times Educational Supplement.
Adèle's booklist
Song Hunter
by Sally Prue (OUP)

Let us begin as far back as we possibly can - in the Ice Age with Neanderthal man … or rather girl. Mica, the young heroine, speaks to children across millennia. An imaginative, well-written and very well-researched novel, which is also nice and short.

Black Ships before Troy
by Rosemary Sutcliff (Frances Lincoln)

This is a beautiful edition with wonderful illustrations by Alan Lee. It's a good introduction to one of the best stories ever and one that every child should know. The Trojan War comes to life.

In Search of a Homeland
by Penelope Lively (Frances Lincoln)

Now that very few people learn Latin, it's important that the stories of Greece and Rome are transmitted in other ways and this version of the Aenied by Virgil is outstanding.

King Arthur and the Knights of the Round Table
by Marcia Williams (Walker Books)

This is a good, cartoon-style introduction to the Arthurian legend for the younger end of the age group. For older readers, I'm a huge fan of the four novels collected under the title of the first: The Once and Future King by T.H.White (Voyager Classics). This first story in the series is simply the most magical account of Arthur's childhood you could wish to read.

Traitor's Kiss
by Pauline Francis (Usborne)

An engaging and thrilling tale of the young Elizabeth who is caught up in the machinations of the court, as she tries to discover more about her mother, Anne Boleyn, who was executed when Elizabeth was very young. A different slant on the great Tudor queen.

No Shame, No Fear
by Ann Turnbull (Walker)

This is an enthralling book on an unusual subject: the persecution of the Quakers in the 17th century. Turnbull's book is plainly written and I can imagine it appealing to the more thoughtful 11 year-old. For anyone who falls in love with Will and Susanna, their story continues into other novels.

At the Sign of the Sugared Plum
by Mary Hooper (Bloomsbury)

This is a book that takes in both sweet-making and the Great Plague: two things that are always very popular with children. Hooper is a warm-hearted writer of carefully researched historical fiction and her heroines are always appealing.

Highwayman's Footsteps
by Nicola Morgan (Walker Books)

This manages to be both a rip-roaring adventure yarn as well as a broadening - out of the famous poem by Alfred Noyes which every schoolchild ought to know, preferably by heart! A cracking read.

Blitz Boys
by Linda Newbery (A&C Black, Flashback series)

This is a wonderful story about two boys who meet during the Blitz and discover all kinds of truths about war and bravery.

A Candle in the Dark
by Adèle Geras (A&C Black,'Flashback' series)

This is about two children who are sent from Germany to England to escape the Nazis.

When Hitler Stole Pink Rabbit
by Judith Kerr (HarperCollins)

This is a beautifully readable and accessible memoir which has become a classic and deservedly so. It's directly and affectionately written. It's also about subjects, such as immigration, which are still relevant today.

View book record

Carrie's War
by Nina Bawden (Puffin)

Another classic about evacuees during the Second World War and a good companion for Goodnight Mr Tom by Michelle Magorian (Puffin) which the upper end of the age range would enjoy. Both have been televised.

The Historical House Series
(Usborne)

Six titles by three writers: Linda Newbery, Ann Turnbull, and Adèle Geras, about girls living in the same house through more than a century: Mary Anne and Miss Mozart by Ann Turnbull (1764); Lizzie's Wish by Adèle Geras (1857); Cecily's Portrait by Adèle Geras (1895); Polly's March by Linda Newbery (1914); Josie Under Fire by Ann Turnbull (1942); Andie's Moon by Linda Newbery (1969).