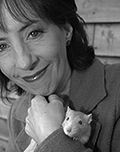 Ali Sparkes' Sci-Fi Stories (Years 3–6/P 4–7)
I'm not really one for airy fairy stuff, you know. I love a bit of fantasy and sci-fi. What I really enjoy is a talented writer creating a very believable world – even if it's an absolutely preposterous world – and putting the kind of stuff in it which makes it very nearly real. Adventure, humour, horror, tragedy, love, friendship, brain-bending notions… mixed up with the kind of things we all know and recognize.
So, the books I've listed have a number of these ingredients. Or sometimes, fabulously, all of them. Mortal Engines springs to mind…
About Ali Sparkes
Ali Sparkes is best known for her Shapeshifter series of fast paced action adventures with a paranormal twist and for her Blue Peter Award winning sci-fi novel Frozen In Time, published by Oxford University Press. Her SWITCH series for younger readers, illustrated by Ross Collins, is in translation all over the world – and features Scratch The Rat.
Ali's booklist
Aquila (& Aquila 2)
by Andrew Norriss (Puffin)

Two boys happen upon a small spaceship, buried for centuries but still more state of the art than anything NASA could dream of. Not great at schoolwork, they inadvertently start to get into maths, physics, geography and other subjects because they need to make Aquila work for them. And does it? Oh yes! Amazing adventure awaits…

Dragon Orb: Aurora
by Mark Robson (Simon & Schuster)

Robson's earlier career as an RAF pilot lends a thrilling authenticity to his flying scenes in this fantasy series, whether his characters are piloting a WW1 bi-plane or a dragon. Each book (there are four in total) is a satisfying read and the series finale delivers an unexpectedly emotional punch.

Mortal Engines
by Philip Reeve (Scholastic)

The first of Reeve's acclaimed steampunk series and deservedly the winner of the Blue Peter and Carnegie Awards, this is the story of young Tom, an apprentice on the rolling city of London – a crouching entity which travels bleak post-apocalyptic plains on traction wheels, hunting smaller towns. Pure brilliance between two covers.

Scream Street: Fang of the Vampire
by Tommy Donbavand (Walker)

Luke turns out, one day, to be a werewolf. He never asked for this and nor did his parents. They all get bundled off to Scream Street where other undesirables are contained, like Cleo, the tomboy Mummy and Resus, the wannabe vampire. Hammer horror hilarity from a very witty writer. The first in an epic 13 part series.

Magic Ink
by Steve Cole (Simon & Schuster)

Stew Penders moves into the creaky old house his comic-drawing legend grandfather left the family. In no time at all he's accosted by Posho Pig, one of his late granddad's characters come to life with a top hat and cane and a mission for Stew to rescue history's most famous magician. A brilliant fusing of superhero graphic novel and full on fiction, which had me hooting with laughter. Perfect for reluctant readers and young comic book artists.

Vampirates: Demons of the Ocean
by Justin Somper (Simon & Schuster)

Twins Connor and Grace are rescued from a shipwreck in a storm – but by different ships. Connor is now aboard with pirates, learning to swab the decks and wield a cutlass – while Grace wanders the eerie Vampirate ship, crewed by demons and vampires. It's hard to know which one has been lucky as the brother and sister strive to find each other across the high seas.

The Wish List
by Eoin Colfer (Puffin)

When Meg Finn goes on the rob she doesn't expect it to end so… finally. Now she's in an inter-dimensional fight to get to a better place and she'll only get there if she can redeem herself by helping the pensioner she was robbing to achieve his wish list. Fail and it's looking like a hot and fiery ever after for Meg… Hilarious, quirky and moving.

The Lost: The Dark Ground
by Gillian Cross (OUP)

In the first part of a darkly addictive trilogy, Robert wakes up dazed and naked, alone in a dark wood. The last thing he knew, he was on a plane - so how did he get here? And why does everything look so huge? Terrifying and compelling.

A Pack of Lies
by Geraldine McCaughrean (OUP)

Who is MCC Berkshire? That's what Alisa wants to know – especially as he seems to have followed her home from the library and into her life, volunteering to help out at her mother's failing antique shop. Enigmatic and full of extraordinary stories, MCC is the best salesman ever. But is he... real? A quirky and charming tale with definite bookish girl appeal.

World Eater
by Robert Swindells (Yearling)

Orville doesn't dare mention his hobby at school, but waiting for his pigeon to lay eggs is mostly what takes up his thoughts. Until a great storm and the revelation of a new planet in the galaxy. But Orville doesn't think it is a planet. And if it's what he thinks it is… the Earth's days are numbered. An unusual and quirkily gripping story.

The Eyes of the Dragon
by Stephen King (Hodder)

A rare story written for younger readers, this tells the epic tale of how Peter, the king's elder son, is framed for his father's murder, leaving the kingdom to his weak younger brother Thomas – soon controlled by evil Flagg, the late king's magician. Peter must risk everything to save his kingdom from Flagg's terrible influence.

The White Giraffe
by Lauren St John (Orion)

Orphaned Martine is sent to live with her grandmother on an African wildlife reserve. It's hard to fit in but it seems she has a gift for connecting with animals… and maybe she is the prophesied child who will befriend the legendary White Giraffe. Full of authentic African detail but with a delightful paranormal twist. Girls, in particular, will love it.

View book record