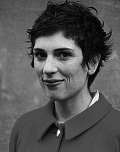 Joanna Nadin's selection of Fiction Tackling Girls' Issues (Years 3–6/P 4–7)
Growing up is a tricky job for girls. Friendships form and dissipate on a monthly if not weekly basis, family lives are often in flux, bodies start to change and grow, and then there's the issue of big school just around the corner. Talking is great, but it's not always easy. I know from my own experience of being the odd girl out that seeing your problems in print, being dealt with and hopefully solved by a girl a bit like you, can make all the difference. This list aims to help out with everything from new schools to new dads to new feelings. But be assured, the books aren't here on their 'issue' merit alone. These stories will pull you in, make you laugh and may even make you cry. Because whatever the message, a story needs above all to entertain, and these books do just that.
About Joanna Nadin
Joanna Nadin is the author of nearly 40 books for children, including the bestselling Rachel Riley series (OUP) and the award-winning Penny Dreadful series (Usborne). She was a journalist as well as a special adviser to the Prime Minister. She lives in Bath with her daughter.
Joanna's booklist
Are You There, God? It's Me, Margaret
by Judy Blume (Macmillan)

This is where I learned pretty much all I knew aged 11 about growing pains, from periods to bras to best friends. Written in the 1970s, its message is still relevant, funny and frank for today's pre-teens.

Blubber
by Judy Blume (Macmillan)

A story for anyone who struggles with weight, or with friendship. Linda is picked on because of her size and Jill knows she should stand up for her. But when she finally overcomes her fear to speak out, she finds herself the target for the bullies. Worse, Linda has joined them.

Amber Brown is Not a Crayon
by Paula Danziger (Puffin Books)

The first in a series of fabulous and funny books about the eponymous Amber Brown. Written in the first person, these are easy to get into, and fast to get through, and this one deals delightfully with Amber's fears and feelings when she finds out her best friend Justin is moving away.

Bad Girls
by Jacqueline Wilson (Yearling)

When you've been picked on for as long as you can remember, being singled out as a new best friend is an alluring prospect, even if the girl in question has a bad reputation. Perfect for anyone feeling left out, bullied, or even those prone to being the bully.

The Suitcase Kid
by Jacqueline Wilson (Yearling)

I know I've already championed one of her titles, but Jacqueline is the queen when it comes to issues, and this one deals brilliantly with the fallout from divorce and the realities of joint custody. It follows Andrea and her stuffed rabbit Radish as she negotiates two bedrooms, the loss of old friends and the arrival of new step-parents and step-siblings.

View book record

Cookie
by Jacqueline Wilson (Corgi Children's)

And another. It's hard being called Beauty Cookson when you don't quite measure up to the name. And as if playground taunts aren't enough, Cookie's home life is less than idyllic with a dad who flies into a temper. An uplifting tale about finding a new life, and a new name.

Indigo Blue
by Cathy Cassidy (Puffin)

Heralded as the "new Jacqueline Wilson", former girls' mag agony aunt Cathy Cassidy has built up years of knowledge and understanding of the spectrum of issues and feelings young girls go through, and has produced the books to prove it. This one follows daydreamer Indie, as she is forced to flee her home with her mum and sister, and finds out about the realities of domestic violence, and what it feels like to really get the blues.

Cherry Crush
by Cathy Cassidy (Puffin)

Another from Cathy: the first of the superb Chocolate Box Girls series that deals with new stepfamilies, new homes, sibling rivalry and what happens when you fall for your stepsister's boyfriend. And, as a sweetener to some of the bitter feelings, it's packed with chocolate references, making it as delicious as it is deep.

Pea's Book of Best Friends
by Susie Day (Red Fox)

The story of eleven-year-old Pea, who moves from a small and sleepy Welsh town to the bright lights and busyness of London. How will she make new friends? And how can she be sure they actually like her, and not the fact that her mum is a famous writer? A reassuring read for anyone facing a move, whether it's to a new town, or secondary school.

The Secret Hen House Theatre
by Helen Peters (Nosy Crow)

This is a fantastic story of four children left to their own devices on the family farm in the wake of their mother's death. Good for family troubles and grief, and good for adventure and fun too, and a must for any girl keen on drama (of all kinds).

Operation Eiffel Tower
by Elen Caldecott (Bloomsbury)

Another four children – from baby Billy to teenager Lauren – this time desperate to get their parents back together after their dad leaves with just a suitcase of clothes. They plan a romantic weekend in Paris, but while the result might not be what they had in mind, the whole family ends up with a better understanding of how to handle break-up.

A Year Without Autumn
by Liz Kessler (Orion)

A time-travelling story about how the smallest action or inaction can change the course of our lives. Jenni takes a lift to her best friend Autumn's flat, but arrives a year in the future to find that Autumn has moved and both their families are falling apart, forcing her to take slow steps back to see what went wrong, and how she can change the course of history.

Spies, Dad, Big Lauren and Me
by Joanna Nadin (Piccadilly)

Billy Grimshaw may be a boy (and yes, he may have been written by me), but along with his best friend Big Lauren, he still has a lot to teach young girls about problems at home, at school and inside your own head, when the only thing that can help you calm down is counting the glow-stars on the ceiling.