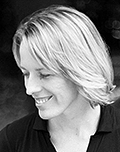 Lauren St John's Adventure Stories for Girls (Years 3–6/P 4–7)
As a child growing up in Africa, I was obsessed with both adventure novels and the idea of having adventures. Now that I'm an adult, nothing's changed. Perhaps because I assume that most people feel the same way, I try to write novels that have strong, resourceful and inspiring girl characters. What's encouraging is that there is a wealth of fabulous girl heroines. You only have to know where to look for them.
About Lauren St John
Lauren St John is the author of the bestselling White Giraffe series, inspired by her childhood on a farm and game reserve in Zimbabwe. Dead Man's Cove, the first in her mystery series featuring eleven-year-old detective Laura Marlin, who lives in St Ives, won the 2011 Blue Peter Book of the Year Award. Fire Storm, the third book in her One Dollar Horse trilogy for older readers, was published by Orion on 1 March 2014.
Lauren's booklist
Journey to the River Sea
by Eva Ibbotson (Macmillan)

An orphaned London schoolgirl travels with her governess to South America, where her ghastly relatives spend their days attempting to shut out nature. Maia's gentle, loving character and willingness to engage with her exotic new world and try to overcome her fears help make this one of the most wonderful girl's adventure stories ever told.

View book record

For the Love of a Horse
by Patricia Leitch (Catnip)

Unforgettable story of Jinny Manders, recently moved to the wilds of Scotland, who rescues a chestnut Arab from a circus and tries to tame her. My favourite ever horse book.

The Tail of Emily Windsnap
by Liz Kessler (Orion)

Irresistible tale of a seemingly ordinary girl who discovers she is a mermaid during a swimming lesson. Beautifully written and highly original.

The Lion, the Witch and the Wardrobe
by C.S. Lewis (HarperCollins)

Lucy stumbles on a magical land of fauns, centaurs and talking animals at the back of an old wardrobe, but it is ruled by an evil White Witch. Their only hope of freedom is Aslan, the great lion, and four children.

View book record

The Name of this Book is Secret
by Pseudonymous Bosch (Usborne)

When young investigators, Cass and Max-Ernest, set out to uncover the history of the Symphony of Smells, they stumble onto a terrible secret involving kidnapped children and the secret of eternal youth. Can they save the day?

The Silver Donkey
by Sonya Hartnett (Walker)

When French sisters, Coco and Marcelle find a blinded British soldier in the woods, they resolve to help him find his way home to his sick brother – not knowing that he is in fact a deserter. In return for their kindness, he tells them stories connected to the silver donkey charm he carries in his pocket. A beautiful book.

Dear Olly
by Michael Morpurgo (HarperCollins)

Deeply moving novel about Olly, charged with looking after a family of fledging swallows in England, her brother, Matt, who against his parent's wishes leaves home to work with children in a warzone in Africa, and Hero, the only fledgling to survive. Hero's migration to Africa connects their stories.

The Dragonfly Pool
by Eva Ibbotson (Macmillan)

Tally Hamilton is livid when she is sent from London to a boarding school in deepest Devon, all because war has broken out. But Delderton Hall is about as far from a conventional boarding school as could be imagined, and a school trip to the kingdom of Bergania turns into the adventure of a lifetime.

The Promised One
by David Alric (Acme Press)

Following a car accident, eleven-year-old Lucy Bonaventure discovers that she can communicate with animals through her mind. Cue lots of fast-paced action involving a search for her lost father in the Amazon jungle and a race to save some jaguars.

The Snow Merchant
by Sam Gayton (Andersen)

Lettie Peppercorn has led an adventure-free life on the windswept coast of Albion until the night the Snow Merchant arrives. Claiming to be the greatest alchemist the world has ever known, he carries in a mahogany suitcase his latest invention – one that irrevocably alters her destiny.

View book record

Inkheart
by Cornelia Funke (Chicken House)

Meggie and her bookbinder father, Mo, love books, but he has never read aloud to her since her mother disappeared. When a mysterious stranger comes to their door with a warning, Mo reveals a storytelling secret that will change their lives forever. The first book in the Inkheart trilogy.

View book record

Island of the Blue Dolphins
by Scott O'Dell (Puffin)

Twelve-year-old American Indian girl Karana jumps ship when her island is being evacuated to help her young brother, left behind. A classic tale of survival and courage, based on a true story.

Northern Lights
by Phillip Pullman (Scholastic)

When Lyra eavesdrops on a secret meeting led by her charismatic uncle, Lord Asriel, at Jordan College, Oxford, it sets in motion a chain of events that will lead her to the frozen Arctic, where witch-clans rule and ice-bears battle. The first book in the His Dark Materials trilogy.

View book record

A Wrinkle in Time
by Madeleine L'Engle (Puffin Classics)

A warm, clever and hugely enjoyable coming-of-age fantasy about Meg Murry father. To find him, they must go behind the evil shadow of a power than is threatening the cosmos.

Adventure Island: The Mystery of the Whistling Caves
by Helen Moss (Orion)

Modern day Famous Five, only with mobile phones and feisty heroine Emily Wild.

The Girl Savage
by Katherine Rundell (Faber & Faber)

Wilhelmina Silver lives a charmed existence in Africa until she is sent to board in England. There she discovers that lions and warthogs have nothing on school bullies. Can a free spirit find a place in a world of walls and rules?

The White Giraffe
by Lauren St John (Orion)

When orphaned Martine is sent from England to live on a South African game reserve with a grandmother she didn't know existed, she feels isolated and lost until she befriends a lonely young giraffe. But can she save him from the poachers who threaten him?

View book record

Dead Man's Cove
by Lauren St John (Orion)

Laura Marlin has spent most of her 11 years in a girls' home, wishing she could have adventures like the hero of her favourite detective novels. When she is adopted by her mysterious uncle and taken to St Ives, Cornwall, she thinks that all her Christmases have come at once. But a message in a bottle sets her on a deadly quest.

View book record