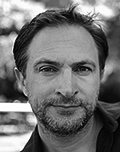 Marcus Sedgwick's Spooky Reads (Years 3–6/P 4–7)
When you think about it, it's a strange thing that we like to be scared by reading a book. It's a bit like a rollercoaster – you know you're going to be scared but you do it anyway, because deep down you know it's safe. This is a list of books all guaranteed to give you that chill. There are some books that are both funny and spooky, others that are out-and-out terrifying, something for all tastes. I hope you love reading them as much as I do.
About Marcus Sedgwick
Marcus Sedgwick is a widely-admired writer of YA fiction; he is the winner of many prizes, most notably the Branford-Boase Award for a debut novel (Floodland), the Booktrust Teenage Prize (My Swordhand is Singing), and the Blue Peter Book Award (Lunatics and Luck). His books have been shortlisted for over 30 other awards, including the Carnegie Medal (five times), the Edgar Allan Poe Award (twice) and the Guardian Children's Fiction Prize (four times). In 2011 Revolver was awarded a Printz Honor.
Marcus' booklist
A Series of Unfortunate Events: The Bad Beginning
by Lemony Snicket (Egmont)

This is the first in the 13 book series and a great introduction to the bizarre and creepy world of Lemony Snicket and the lives of the Baudelaire siblings, which are full of misery and woe. As the book itself tells you – not for those who like a happy ending…

The Dark is Rising
by Susan Cooper (Red Fox)

Actually the second in a five book series of the same name, The Dark is Rising is the spine tingling story of Will in his attempts to understand and defeat the Old Ones.

View book record

The Graveyard Book
by Neil Gaiman (Bloomsbury)

Quirky and witty, this is a series of stories within a story, all told by the inhabitants of a graveyard to a young man called Bod, who once escaped death as a baby.

View book record

Scream Street: Fang of the Vampire
by Tommy Donbavand (Walker)

One of the funny titles in the list and great for younger readers, and the first of six titles from Scream Street – so if children like this one, there's plenty more for them to get their teeth into.

Uncle Montague's Tales of Terror
by Chris Priestley (Bloomsbury)

Uncle Montague tells a series of unpleasant stories to his nephew, and as he does so, we start to learn a little more about Montague himself. Unnerving and great creepy fun.

Room 13
by Robert Swindells (Yearling)

Robert Swindells is a masterful storyteller, and Room 13 is no exception. While on a school trip, Fliss and her friends uncover something very strange going on in the Crow's Nest hotel.

Witch Child
by Celia Rees (Bloomsbury)

For lovers of both spooky reads and wonderfully written historical stories, Witch Child brings the world of witch trials to terrifying life.

The Chronicles of Harris Burdick: 14 Amazing Authors Tell the Tales
by Chris Van Allsburg (Andersen)

Originally published as a wordless series of strange images nearly 30 years ago, now each picture receives an imagined retelling at the hands of some of today's best writers of the dark and strange.

Breathe
by Cliff McNish (Orion Children's)

Truly terrifying ghost stories are a rarity, but this is one of the best of recent years. Jack and his mother move to an isolated house. It's not long before he starts to sense the presence of the departed.

The Tulip Touch
by Anne Fine (Puffin Modern Classics)

A powerful and unsettling story about tearaway girl Tulip and the powerful effect she has on Natalie, showing just how dark friendships can sometimes be.