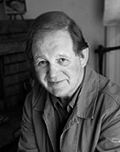 Photo © Richard Cannon
Michael Morpurgo's Classic Fiction (Years 3–6/P 4–7)
One of the most remarkable qualities children have is their seemingly effortless ability to assimilate information at an incredibly fast pace. Their curiosity and attention is constantly being solicited by teachers, friends, family, television, films, video games, toys... the list is endless! What about books? There is a moment when you pick up a book and read the first few pages and your mind sends a signal to your body that what you are experiencing is profoundly good. Reading, being transported into a story, discovering new worlds, and getting to know different characters and what makes them smile or cry is one of the most enriching gifts to the mind and soul of a person. However, the inherent curiosity and desire to learn that we all have as children can easily be quashed by forcing a child to read a book that he is not ready for. The idea that ALL well-educated children must read ALL the classics is nonsense. They aren't ALL that good! There are some stories that do stand out from the crowd.
This list includes the books that children have loved for generations. Some old, some new. Stories that have become part of our heritage, bound to live on forever. Some were around long before I was a boy others have appeared more recently and, I hope, join them because they are absolutely wonderful! Of course, many more can and will be added but this is a good place to start.
About Michael Morpurgo
Michael Morpurgo was born in St Albans in 1943 and was educated at Kings School Canterbury and Kings College London.
In 1963 Michael became a teacher, teaching in schools all over the country, until 1975, when he and his wife Clare moved to Devon to set up and run the charity Farms for City Children at Nethercott House. The couple wanted to enable children from inner-cities and urban areas to have the experience of living and working on a family farm, learning where their food came from and gaining an understanding of a farmer's life. In 1998 the couple were awarded the MBE for their work.
Michael's first book was published in 1975 and since then he has published over 130 books including War Horse, Private Peaceful and The Butterfly Lion. Animals and children are often at the heart of his stories. Michael was Children's Laureate from 2003 – 2005. He is a passionate campaigner for children's literature, the rights of children and for peace. In 2006 he was awarded the OBE for services to children's literature.