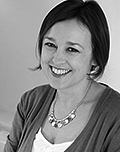 Photo © Alexander James
Sue Mongredien's Great Magical Stories (Years 3–6/P 4–7)
What an absolute treat to be asked to compile this list! As a child, my favourite stories were magical adventures, and now that I'm a grown-up with three children of my own (aged 12, 10 and 8), I have enjoyed discovering new authors and stories with them. The books below all come highly recommended from me (and them). Happy reading!
About Sue Mongredien
Sue Mongredien has had over 100 books published for children including the Oliver Moon and Secret Mermaid series. She also writes books for grown-ups under her glamorous pseudonym, Lucy Diamond. She lives in Bath with her husband and three children.
Sue's booklist
Harry Potter and the Prisoner of Azkaban
by J.K. Rowling (Bloomsbury)

Any list of magical stories HAS to have at least one Harry Potter book and this is my favourite of them all. Not too daunting in length for a younger reader, it has tons of action, wonderful magic and the introduction of Professor Lupin, Sirius Black and the Dementors. Altogether now: EXPECTO PATRONUM!

Philippa Fisher and the Dream-Maker's Daughter
by Liz Kessler (Orion)

This is a lovely magical story featuring Philippa and her fairy godsister, Daisy, as they help Robyn, a mysterious girl Philippa meets on holiday. Featuring dreams, wishes and magic, as well as plenty of humour, this is a gorgeous, original story that I really enjoyed.

Finn Family Moomintroll
by Tove Jansson (Puffin)

I read this to my eldest two children when they were about 7 and 9, and we were all entranced by the delightful, quirky humour and memorably magical characters. Beautifully written – and the Thingummy and Bob chapters had us all roaring with laughter too.

Ingo
by Helen Dunmore (HarperCollins)

One summer, Sapphy meets Faro, a Mer boy, who takes her to Ingo, the strange and beautiful land of the mer-people under the sea. Haunting and lyrical, this is also the first in a series. My daughter and I couldn't read them fast enough!

View book record

Midnight for Charlie Bone
by Jenny Nimmo (Egmont)

We listened to the audio version of this driving around France one summer – and the whole family was spellbound. Charlie discovers he can hear what people in photographs say – and is promptly sent to Bloors Academy, full of children with other unusual talents. Great characters, lots of magic and an excellent mystery surrounding Charlie's dad.

Igraine the Brave
by Cornelia Funke (Chicken House)

It was a toss-up between this and the entire Inkheart series (all wonderful!) but I picked this book because Igraine is one of the funniest, feistiest female characters I can think of. A fab cast of characters and a fast-paced plot – I loved it!

The Ogre of Oglefoot
by Eva Ibbotson (Macmillan)

Again, I could have picked almost any title by Eva Ibbotson. Funny, inventive and with rip-roaring plots, she is a must-have in a magical stories collection. This book stars a hag, a troll, a wizard and a boy who are sent to kill an evil ogre and rescue a princess. But the ogre turns out to be surprisingly pleasant – and the princess isn't quite as helpless as she seems… Great fun.

Skulduggery Pleasant
by Derek Landy (HarperCollins)

The first in a hugely successful series featuring the magical, funny detective, Skulduggery Pleasant (who just so happens to be dead), and his accomplice, 12-year-old Stephanie… as well as a truly spectacular villain. A fast-moving rollercoaster ride of a book.

View book record