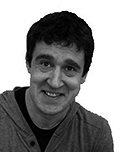 Tom Palmer's Great Sports Stories (Years 3–6/P 4–7)
I would never have read for pleasure if there had not been sports fiction. It was reading stories about football that gave me the confidence to call myself a reader. That's why I am so happy to have done this list of children's novels about sport.There is a lot of sports fiction for kids about football, but I have also read loads of books about other sports, rugby, horse riding, athletics, cycling. I have tried to represent as many sports as I can that appeal to boys and girls.
About Tom Palmer
Tom Palmer writes books about football, rugby, spies and detectives for children aged 5 to 15. His Football Academy and Foul Play series are published by Puffin Books. His website is www.tompalmer.co.uk.
Tom's booklist
Glory Gardens Cricket Club: Glory in the Cup
by Bob Cattell (Red Fox)

There are seven books in the Glory Gardens series, the only cricket fiction series for kids. They combine lots of information about cricket technique with good storylines about the game. Popular with those in the know.

View book record

Cycling for Gold
by Owen Slot (Puffin)

Cycling for Gold is by a well-known sports journalist. Slot spent time with the GB Olympic cycling team to research the book. Cycling for Gold is about a boy called Sam who has a dream to race in the Olympics. The lot zips along like Bradley Wiggins on a good day. You can also read Running for Gold by the same author.

Football Academy Series
by Tom Palmer (Puffin)

Six books about a Premier League football academy, based on exhaustive research at England's top clubs. The first book – Boys United – follows a boy as he tries to make it as a ten-year-old at Premier League United.

Girls FC Series
by Helena Pielichaty (Walker)

12 books about a girls' football team. Each book focuses on a different player and the other thing that is going on in their life. Written by an author whose daughter played football at a high level. Popular with girls – and open-minded boys.

Bend It Like Beckham
by Narinder Dhami (Hodder)

The book of the famous film. But in many ways better. A girl wants to play football, but her dad won't let her. So what does she do? Narinder Dhami has also written a series for 11+ girls called The Beautiful Game.

Keeper
by Mal Peet (Walker)

A great story for older – and more confident – children. A World Cup winning keeper reflects on his life and how he was trained to be a goalie by a ghost. Also about deforestation in South America, which sounds incongruous, but it's not. A fine book by a fine writer. Two follow up books are The Penalty and Exposure.

View book record

The Kick off
by Dan Freedman (Scholastic)

The first in a series of five books in the Jamie Johnson series, about a boy who rises through the ranks of football. Written by an author who has worked for the Football Association, it includes fun training tips that children enjoy.

Foul Play
by Tom Palmer (Puffin)

Danny Harte is a fourteen year old boy with a love of football. When his favourite player is kidnapped, Danny and his best friend, Charlotte, investigate, taking them to the heart of a terrifying football crime. The first of five books featuring Danny, the Football Detective.

Gym Stars: Summertime and Somersaults
by Jane Lawes (Usborne)

Tara signs up for a summer school at the local gymnastics club – and becomes hooked on gym. Filled with friendship, injuries and competition, this is the first book of three that capture what draws a lot of girls into the sport.

The One Dollar Horse
by Lauren St John (Orion)

This is a thriller based around the equestrian world by a very popular author well-loved for her books about animals. A girl from a London estate, Casey, buys a hopeless horse and goes on to challenge the best in her sport.

Speed Machine
by Jonny Zucker (Scholastic)

Jonny Zucker writes stories about various sports. Speed Machine is one of two books that track the adventures of Danny Sharp. The other book is Turbo Drive. They are about karting and one boy's dream to reach the heights of racing as an F1 driver.

The London 2012 Novels
by Robert Rigby (Carlton)

Before the 2012 Olympics, Robert Rigby published four novels about different sports. Rigby is a great kids' author and these books don't disappoint. They include Parallel Lines (about gymnastics), Running in her Shadow (athletics), Wheels of Fire (BMXing) and Deep Water (swimming).

Cliffhanger
by Jacqueline Wilson (Yearling)

Reluctantly, Tim has to go on an outdoor pursuits' week with his school. He dreads it. Over the week he does abseiling, climbing and canoeing. It is not smooth going, but Tim learns that there are some sports he is actually quite good at.

View book record

The Rugby Zombies
by Dan Anthony (Gomer Press)

Three boys discover 15 zombies living in the woods near their town. The zombies are wearing Wales' rugby tops and they need the boys' help. Or else. The first of three books featuring the rugby zombies, this is funny, moving and a little crazy.

Scrum
by Tom Palmer (Barrington Stoke)

Steven plays rugby league in the north of England, encouraged by his dad. But when his mum takes him south and marries a rugby union fan, Steven has to cope with some serious pushing and shoving.

Rugby Spirit
by Gerard Siggins (O'Brien Press)

Eoin breaks into the rugby team at one of Ireland's great rugby schools. Just like his grandfather did two generations ago. But with his granddad ill, Eoin has to rely on the help of a rugby hero from the past for support. A ghost, in fact. By a much respected Irish rugby writer.

Top Spin
by Sean Callery (Barrington Stoke)

This is a story about a boy – Tim – who loves to play tennis, but things go wrong for his game when his parents break up. A nice blend of sport and personal life. Published by Barrington Stoke, this book is great for less able readers as well as everyone else.