Find a book > Brilliant books > Mystery stories
Mystery stories
Who doesn't like a good mystery? From missing Roman signet rings to the adventures of the Young Houdini, here's Wendy's top picks to keep your child guessing!
Mystery stories for: 8 – 9 years | 9 – 12 years
Mystery stories for 8–9 year olds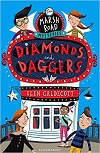 Diamonds and Daggers by Elen Caldecott
The Marsh Road investigators, a group of good friends, are excited to hear that a famous Hollywood star is coming to do a show at the local theatre. Everything goes wrong when an expensive diamond necklace is stolen and the father of one of the friends is the top suspect. Fast, fun, and exciting.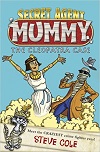 Secret Agent Mummy: The Cleopatra Case by Michael Foreman
For anyone into zany humour, this is a must. The book takes the reader back with Sam to the world of Cleopatra where he becomes involved in a crazy mystery with a mummy detective—and Cleopatra.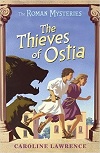 The Thieves of Ostia by Caroline Lawrence
This is Book One of the Roman Mysteries series. The year is 79 AD and the setting is close to Rome. Flavia sets out to discover who has stolen her father's signet ring and meets three young people who become her friends and join in with her detective work. Good characters and a strong sense of time and place.

I Was a Rat by Philip Pullman
When Bob and Joan answer the door one evening, they are amazed to see a small boy, dressed in a rather worn page's uniform, on the doorstep. All he will say when questioned is, 'I was a rat.' Who is he? Where has he come from? So an extraordinary story begins.

Violet and the Pearl of the Orient by Harriet Whitehorn
A wonderfully old-fashioned story of a count, a countess, a stolen, very precious jewel, and a girl with the detective skills to uncover the truth.
Mystery stories for 9–12 year olds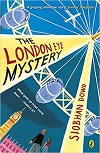 The London Eye Mystery by Siobhan Dowd
Ted and Kat's cousin comes to stay and on a day out they let him use the only ticket they have, and board the London Eye. They watch the wheel move round until Salim's pod reaches the bottom and the people stream out—all except Salim, who has disappeared into thin air.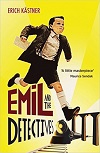 Emil and the Detectives by Eric Kästner
Back in print after many years, this slightly old-fashioned story is still hugely enjoyable. Emil is robbed on the train on his way to Berlin and this disaster is the trigger for a great adventure. He makes friends and together they set a trap to catch the thief.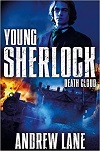 The Death Cloud by Andrew Lane
First in a series of books set in the nineteenth century and imagining the exploits of the teenage Sherlock Holmes. Good for mystery-loving readers aged eleven or over.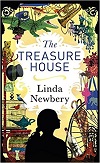 The Treasure House by Linda Newbery
When Nina's mother suddenly disappears leaving only a cryptic note, her father goes to look for her, leaving Nina with her eccentric aunts. She enjoys the new life but is determined to solve the mystery of her mother's disappearance. Another one for the top of the age range.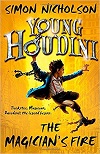 Young Houdini by Simon Nicholson
This book imagines Houdini, the famous escapologist, as a young boy trying to get started in his unusual career. Action-packed and great fun with a big mystery at the heart of it to be solved by Houdini and his friends.
Browse by theme
More from the blog