Expert help
Reading in the holidays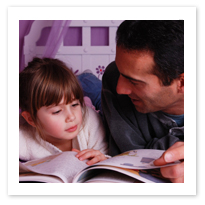 Many parents worry about continuing to support their child's reading progress during the school holidays.
Holiday time can be a constant juggling act. You want to go out for day trips, or you may be travelling abroad or visiting relatives. All of this at the same time as encouraging your child to read the books they have brought home from school and keeping their motivation and enjoyment of reading up as much as possible.

Click below to read top tips from infant teacher Emma Chaplin and junior teacher
Dawn Hallybone.
Reading in the holidays for 5-7 year olds
I am Emma Chaplin, Deputy Head, Literacy Co-ordinator for Foundation and KS1, and Reception teacher at Grays Nursery and Infant School in Sussex and I'd like to share with you my top tips for keeping up with reading in the holidays for younger children.
1. Visit your local library
It's free and children love choosing their own books to read. Remember if the book your child chooses to read is too tricky for them to read independently then read it to them or share the reading. Lots of libraries have free storytelling events and competitions so look out for those too.
2. Internet fun
Visit the Oxford Owl Library which has lots of free eBooks to read, and fun games to play, and there are lots of other good sites to visit too.
Try these:


3. Signs out and about
When you are out and about in the car, on the bus or out for a walk, see how many signs you can spot. Road signs, street signs, shop signs and timetables… Read them together with your child.

4.Den reading
Build a den or hideout with your child out of dark blankets or sheets. Ask your child to choose some of their books to take into the den to read. Don't forget the torch – it's exciting to read a book by torch light!

5.Reading to other members of the family
Children love to share reading skills with family members so if you are visiting family then take reading books with you so someone different can say how proud they are hearing your child read. It's a good chance to show off!
6.Family meal times
Often during holiday time, families can spend longer over meal times or might visit a café or restaurant. Read the menu whilst you are choosing what to eat or read the cereal packet over breakfast. Or if you have friends visiting for a meal then get your child to create name places for each person – make them fun and personal so each person feels special.
7.Postcards and cards
At special times of the year or celebrations, enjoy opening the post together to read Christmas cards, birthday cards, or letters from family and friends. Ask family and friends to write your child postcards whilst they are away on their holidays. Children love to read a postcard addressed to them. Don't forget to send return post too – whether it's snail mail or via technology.
8. Holiday scrapbook
During holiday time, collect items of interest and stick them all in a scrapbook or write a simple holiday diary. As you stick these items in, chat about your child's choices and favourite things to do. You will have created a book full of happy memories that your child can read again and again. Your child's teacher would also love to share this book with the class when term begins.
9. Cooking your favourite dish
Does your child enjoy cooking? Find a recipe, read the list of ingredients together, visit the shops and read the food labels, and then support your child to read the instructions as you make your favourite recipe.
10.Playing outside
All children love to play outside on large play equipment. When you're in your garden or at the local park don't forget to play some fun games too. As your child comes down the slide or is swinging on a swing ask: What does slide begin with? What is a word beginning with t? Spell your name! Give me a word that rhymes with den!
The list of things to do could be endless and you're bound to have lots more ideas on how to have holiday reading fun.
Reading in the holidays for 7-11 year olds
I am Dawn Hallybone, senior teacher and ICT co-ordinator at Oakdale Junior School in Redbridge, and I'd like to share with you my top tips for keeping up with reading in the holidays for older children.
1. Visit your local library
Encourage your child to choose books relating to a topic that they're really interested in. Librarians are a good source of information for popular books and most libraries also run schemes and competitions during the holidays as well as having a range of activities that your child can join in with - so use them!
2.Internet fun
Use the internet to search out author blogs and sites, book previews and trailers as well as general articles or reports on books. Many websites have great ideas and links to suitable topics to engage and encourage older readers. Try CBBC or YouTube for a preview of a Horrible Histories book. Visit the Oxford Owl Library for a range of free eBooks that will appeal to older children.

3.Out and about
When travelling, encourage your child to help when reading directions, looking out for road signs and talking about how long they have to travel or how far they have left. Reading timetables is also a great skill for them to develop - bus, train and tube - and will encourage their independence as well. Boys often particularly enjoy this.

4.Cooking
If your child likes to cook, encourage them to read the instructions in recipes and plan for what is needed. Some fun ones include Roald Dahl's Revolting Recipes (Puffin), The Silver Spoon for Children, Jamie Oliver and school dinner lady Nora Sands' Nora's Kitchen (Collins), or Grow it, Eat it (RHS and Dorling Kindersley). But if you don't know these, any will do.

5. Shopping
When doing your weekly shop, encourage your child to help with the shopping by writing and reading the list as well as finding products in store or online. If they need new school shoes or new school uniform, get them to do some research online first to make the trip to the shops more efficient. Boys may respond particularly well to this idea and it's all good reading practice.
6. In the news
Encourage your child to read newspapers and find out what is going on in the world. Try First News , a children's paper aimed at 7–14 year olds, or CBBC Newsround online , as a change from television. You may want to be around if stories are of a sensitive nature, but talk to your child about what they have read. Use local papers to read about local events.
7. Holiday online scrapbook
Suggest making an up-to-date scrapbook online, using a blog www.blogger.com that enables your child to upload pictures of their holiday and write about their experiences which can then be shared with family and friends and even the wider world. You may want to check the site your child is using for safety.
8. Creating
If your child enjoys making up their own stories, encourage this by using www.storybird.com to help them design their own picture book. The site was started for families so is well monitored and very safe. The professional-looking end product can be printed in a proper hardback book for your child to keep and share with others.
9.Sharing
If your child is reading a chapter book, consider reading the same book at the same time – this gives you the chance to compare your impressions of the book and talk about the plot. Ask your child questions, e.g. Which character they liked best, who would they like to be? Ask them to write you a short quiz about the book to check you've read it properly!
10. Relaxing
Help your child create a 'reading and dreaming' place in your home. This could be a window seat with comfy cushions, an indoor pop-up tent with a cosy blanket, or even a corner in a garden shed with a seat. Let the rest of the family know that if your child is in her/his special place they should try not to disturb them. You may even get some peace then too!
Summer reading
The long summer holidays can really make a difference to children's reading levels. Use the links below for more ideas on how to avoid the summer slump, and book recommendations listed by age group.
How to beat the summer slump - expert advice from James Clements
Recommended summer reads
And what do the children say?
When Dawn asked the children in her Y5/6 class what they felt was important to them about reading in the holidays, this is what they said:
I need a space to read – a bedroom or garden, somewhere of my own choosing. Lia 9

I want to choose my own books not have them chosen for me. Ben 9

I want to read all sorts of things including comics and graphic novels, information about Gaming. Connor 9

I like reading series of books like Diary of a Wimpy Kid. Faye 9

I like reading to my younger brothers. Aqila 9

The blurb and illustrations catch my eye first. Mohammad 9

I like taking part in summer challenges at the library. Jordan 9

I like reading magazines and websites about my favourite authors so I can find out more about them and why they write. Jasmine 9